AllWays Online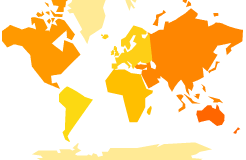 Latest features:
AllWays Colombia
Cartagena: My Favorite Latin American City
By Patti Morrow
Cartagena is irresistible, beckoning travelers with its diversity of sights from 16th century stone walls, forts, and plazas, palm-lined Caribbean beaches, to chic, frenetic urban city –enticing unsuspecting visitors with its Bohemian vibe to stay longer than planned.
You do not have latest version of Flash Player
Old Town
It never gets old.
I stroll down the narrow cobblestone alleys of Old Town gazing at the vibrancy of colors as if seeing for the first time.
Cocooned inside the high 16th century walls, Old Town is a cultural gem of narrow cobblestone streets and squares.
On my left is a three-story colonial home with fuchsia bougainvillea spilling over its iron balcony. Around the corner is a pristine white mansion with a purple-filled flower box dripping almost to the sidewalk.
The romantic atmosphere is intoxicating
The wafting of fresh-baked goodies from the shop next door reminds me that I skipped breakfast.
Armed with a thick brownie-like pastry and steaming Colombian coffee, I continue my walk. I pass a variety of artisan shops and browse the offerings – hand-made jewelry, hats, paintings and wood carvings.
A horse pulling an ornate carriage stops to let off passengers at the Plaza de Bolivar which is bustling with costumed street vendors.
There are several limber young men entertaining a gathering crowd with their acrobatics.
Architecture
Old Town has more stunning architecture, cathedrals and palaces than one city has a right to monopolize.
The San Pedro Claver church and monastery, the Cathedral de Cartagena, Clock Tower, and the Palacio de la Inquisición (Palace of Inquisition) where the Spanish Inquisition inflicted grisly torture upon men accused of religious crimes are all within the city walls.
This is just a part of the Cartagena that I love – sultry, charismatic, and compelling, part frenzy and part mañana.
Historical significance
Cartagena also has a rich history. Just outside the city walls stands the formidable Castillo de San Felipe.
The fortress still stands guard against pirates long gone.
The hilltop location provided a warning view to attacks by sea.
The fortress, now a UNESCO World Heritage Site, was built by the Spaniards in 1536 and is constructed of a series of walls forming an intimidating concrete triangle, and connecting through a maze of tunnels.
A climb to the top reveals a stunning panoramic view of the city. The castle is used even today – though not for military, but for social and cultural events.
www.whc.unesco.org/en/list/285
Chick and Stylish Bocagrande
But historic architecture and authentic culture are not all that Cartagena has to offer. On the other side of town is Bocagrande, the city's most modern urban district.
Here you'll find high-rise condos and upscale hotels, restaurants, stylish boutiques, art galleries, and vibrant nightlife.
It's Bocagrande where I go for tapas, mojitos, and pulsating Cuban music.
Sampling the fresh seafood in Bocagrande is a must.
Many eateries offer excellent ceviche – a traditional dish made from tiny bits of raw seafood marinated in lime juice.
And perhaps the best part of Bocagrande is the beach on the Caribbean Sea.
What can be better than sitting under an umbrella, sipping a Mojito on the crystalline, sugar-sand beach?
The last time I was here, several people were building a massive castle out of the slightly grayish volcanic sand. It was so intricate and detailed, I almost inquired if they had to pull a permit to build it.
A less touristy option is a short boat ride (be sure to negotiate the price!) across the bay to Playa Blanca.
Healthcare draws expats
Lucky for Cartagena, Colombia has both excellent and affordable healthcare.
That's an important factor for Baby Boomers, and just one of many reasons why expat communities continue to grow.
In fact, according IL Colombia Correspondent Michael Evans, the World Health Organization claims Colombia has better than the United States or Canada.
This is the Cartagena of this millennium. This is the Cartagena in which the only risk you face is never wanting to leave.
More information
www.cartagenatravel.com/english/
www.discovercolombia.com/cartagena/
www.ticartagena.com/en/tourist-information/tourist-info/